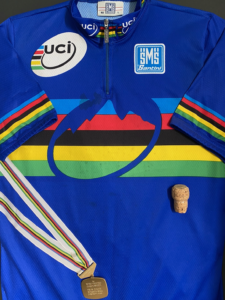 #TBT I can't believe it's been 20 years since I won this jersey.  This day was one of my best days on a bicycle and not just because I won. I had envisioned the race and followed through on that vision.  I had a flawless race followed up afterwards with celebrations with Lanie Mason, Jeff Welch, and Steve Tilford.
This day was one of my top five days on a bicycle. If you are wondering what my top 5 days on a bike are:
#5 1992 Cactus Cup.  This was my first win on a MTB.  I was in the sport category (now called Cat 2) and I had a great back and forth battle with another rider. Afterwards, the late great Charlie Litsky interviewed me on my race.  What an honor it was to have this BMX legend and sports agent to John Tomac even speak to me and congratulate me.
#4 2000 Arizona State Road Championships.  This was one of only a few road racing wins through my racing career.  We raced in Prescott and raced west to a community called Hillside and then returned with a long final climb.  As the climb started, I took up the pace with one rider sitting on my wheel. He stayed there till the last mile of the climb and jumped away.  I stayed calm and held my pace.  At the top of the climb, we had ½ mile downhill to the finish line. I was able to claw back on the downhill only to win by a few inches.
#3 2000 Tour of the Gila Stage 2.  During this year, Stage 2 was the Mogollon Stage which is about 92 miles long ending on a 7 mile climb. In previous years, this stage had given me all sorts of problems and this year, my only intent for the entire race was to have a great day on this climb. In preparation, I envisioned every detail of this final climb to the point of where I would be in the peloton and the point at which I would attack to the finish line.  Everything happened as I envisioned and I beat that mountain on that day.  I did not win the stage but still a great performance and one my best days on a bicycle.
#2 2002 Master's MTB World Championships.  Again, I envisioned this race although I had never seen the course until 2 days prior to race day when I arrived. We were in Bromont Canada and the course matched my strengths very well with short steep climbs and technical rocky descents. Starting from the back row, I envisioned a hard first climb to enter the singletrack in the top 10 and from there to be patient and stay connected with the leaders.  I followed this vision exactly and on the last lap made my attack to the finish.  I attacked both the uphills and the downhills dropping the Italian, Belgian, and German riders with me.  An unforgettable day but still not my #1 day.
#1 2017 Whiskey Offroad 50 proof.  This race may sound surprising to some but honestly this was my best day on a bicycle.  What made this day great was that I stayed true and honest to my abilities. I took my knowledge as a racer and a coach and was able to follow that "knowing" to my best performance.  I again envisioned the race, especially the climb out of Skull Valley as that is where my performance needed to be best. I envisioned a steady pace to that point and actually envisioned helping a teammate who I thought could take the win.  What I did not envision was getting dropped 10 minutes into the race.  I did stay true to my best pace and by the Skull Valley turn around, I had regrouped with all but 3 riders.  Those 3 riders were of no interest to me as my 45+ age group competitors were currently with me.  So we climbed at a steady pace catching 2 of the 3 leading riders.  From the top of Agua Prieta, we descended catching the lead rider as he had flatted.  I still followed watching and waiting. As we entered a more technical section of trail before "Cramp Hill", I took the lead.  As we started up "Cramp Hill," I noticed a small gap forming.  I pounced on the opportunity and attacked from there to the finish. I gave everything and the race took everything.  I finished a few seconds ahead of the next rider and finished as the first rider across the finish line.  This was my perfect day that every athlete strives for. Completing the perfect weekend, both of my athletes Rose Grant and Kristian Hynek had great performances as well.
So as I look back on these events, I think about what are some commonalities between them.  In most of them, I had performed some visualization beforehand.  In all of them, I practiced patience, I raced confidently within myself and I made an attack to the finish.  Most importantly, I focused on having my best performance.
So now I challenge you to do the same. Think back and write down 3-5 events that were your best performances and this could be any performance. It does not have to include a bicycle. With these events, write down your feelings that day, how the day went, any key words that fit that day, and even write down what you had for breakfast.  Write down all that you remember.
Then examine what you wrote down to see what commonalities you find about yourself and your best experiences.  This may be key to you adding to your list of best performances.