In 2014, Kristian Hynek won the Cape Epic MTB stage race with teammate Robert Mennen.  It was Kristian's biggest win to date and the biggest win for an athlete I coached.  Alban Lakata was teamed up with Kristian but had broken his leg earlier in the year and was not able to race.
The year prior, Alban Lakata had won the Leadville MTB 100 with a time of 6hr 4 min.  So in 2014, Alban convinced Kristian to travel to Colorado from the Czech Republic to participate in the Leadville 100.  However, both of them had another ambition: to break the 6hr threshold at Leadville. This had never been done before and Alban had been the closest in 2013.
Kristian and I met briefly on this ambition but we both knew that 2014 would be a test year to gather data and give Kristian a chance to learn the course with high altitude so he would be better prepared for an assault on the 6hr threshold in 2015.
The 2014 event was a good test event for us.  Kristian and Alban arrived a couple of weeks early to altitude, recointered the course, and we tested some different power targets for racing 100 miles at high altitude.  Kristian had a history of not eating and drinking well on the bike so we emphasized that he would need this with the distance, effort, and altitude of the race.  We did not focus on sub 6 hrs. We only focused on racing and being patient.
In the race, Kristian's patience ended when the small group of leaders arrived at the base of the Columbine climb.  Kristian was feeling good and attacked to ride solo.  At the last feed station with 18 miles to go, Kristian had a considerable lead on the world class field.  However, the attack and intense effort up Columbine would have to be paid for.
In racing, we speak of each person having a book of matches.  You burn a match each time you exert yourself over your threshold and you only have a certain amount of matches.  You can regenerate matches but that takes time.  Generally I see athletes with about 1hr of matches to burn.  
With 18 miles of racing to go, Kristian had burnt all his matches.  Both Todd Wells and Christoph Sauser caught and passed Kristian.  Kristian placed 3rd.  All of this effort produced significant data in terms of power, time, HR, and also data for Kristian and Alban to know what altitude feels like, what you need to eat/drink, and how to pace yourself.  The trip was a success.
The year passed. I put together some modeling for Kristian from a power stand point and built a pacing strategy based on a simple spreadsheet with check points being at each feed zone:

I used this to compile results from selected participants over the past few years. I started coaching Leadville athletes in 2002 and had already amassed quite a bit of data.  I looked at the winning times, the times for sub 9hrs, the times for sub 10hrs, 11hrs, and 12hrs.  You can see some of this data below and do understand  that these are averages.  I have seen some riders miss goal times in the beginning and make up time in other portions of the event.  We all have our own strengths and lots of variables can take place during the event. Contact me if you would like a copy of this spreadsheet to plug in some numbers of your own to estimate your finishing time.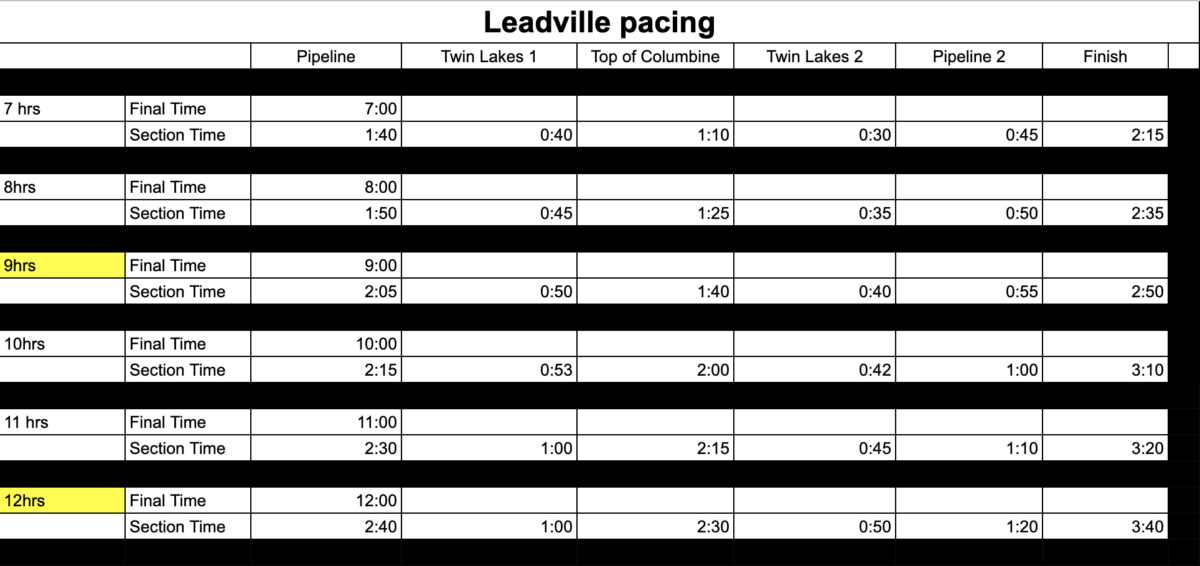 For our goal of sub 6hrs, it was simple in some ways.  You had to be to the finish line in under 6 hours.  End of story.  Variables will affect this like weather, mechanicals, burning too many physical "matches", etc…but if you didn't make your time goals at the feed zones, a sub 6 goal was not likely as it's hard to negative split from a power stand point (although possible) the course.
2015 went well for Kristian and Alban. They placed 2nd at the Cape Epic and Alban won the MTB Marathon World Championships.  We prepped in a similar manner to 2014 for Leadville.  Both Kristian and Alban flew to the high altitude of Colorado a couple of weeks early. They recointered the course and even raced a few days of the Breck Epic to finish off preparations.  They also brought a power house teammate, Jeremiah Bishop, to work as a domestique for the sub 6hr goal.
I do want to state that I am by no means the Mastermind behind this plan but part of a team working together for a common goal of sub 6 hrs.  Kristian, Alban, Jeremiah, and the entire TopPeak Ergon crew all had parts to play.
My guidance included a few key objectives.  One, you had to hit your time marks at the feed zones or at least be close.  Two, after the initial climb where power will be high as the group thins itself and settles down, keep Kristian's power sub 350 watts. This is what we determined to be his sustainable power at this altitude.  Three, eat and drink, eat and drink, eat and drink.
After the start, it was up to the riders to execute the plan and the support crew to be at the feed zones. I could only watch which is one of the most difficult jobs as a coach.  I had to be patient and if I was smart, I would also eat and drink. It was going to be a long day.
Feed zone 1 and all was to plan.  The lead group had thinned and was on pace.    Feed zone 2 and there was still a lead group.  Now was a difficult part which was the 3125 foot climb up Colombine to a max altitude of over 12,550 feet. Kristian has the fastest time posted to Strava.com at 51min 42 seconds and he would need to hold back his effort differing from the previous year's attack on this climb.
Kristian and his team executed the plan with precision and set a new best time up the climb along with keeping the power down.  They turned around at the top with all 3 team members and with athletes Soren Nissen of Luxembourg and former World Champion Christoph Sauser from Switzerland.
Still together at Feed zone 3 and 4 and remarkably on time to break the 6hr barrier, the group arrived at the bottom of the Pipeline climb.  This was the climb 18 miles from the finish that Kristian had imploded on the year before.  This year, he attacked.  We had agreed that getting to this point, it was up to the racers to race or work together as long as they felt they could attain the goal.  
Kristian led the climb with Alban close behind.  For me, I was at Twin Lakes with no phone reception and aiding some other athletes in the race. I had no idea how the race was playing out.
From Kristian's description, he felt great but had some cramping beginning with 3 miles to go.  He was still on target for sub 6 but did have Alban within sight behind him.  His power file shows him accelerating to speed and then slowing down to zero watts. It shows him doing this over and over and over to try to maintain pace along with his HR being higher than any other part of the race.  
At one mile to go, the race course switches from dirt to pavement and you have this short steep hill by the high school.  The cramps overcame Kristian at this point so bad that he fell over and crashed.  He looked back and Alban was coming.  He was coming fast. On the team they called him "Albanator" when he got in this mode of attacking to the finish line.
Kristian got back to his bike and started sprinting again.  He pedals back up to speed on  a small down hill and then there is a gradual uphill to the finish.  Kristian pedaled as best he could only to be passed by Alban at the very end.  Alban finished in 5hrs 58min 35 seconds.  Kristian finished in 5hrs 58 min 46 seconds.  Both had accomplished the sub 6hrs.  They both still stand as the only two riders ever to go under 6hrs.
We met post race and went over the "What did you do well and what could we do better" questions. The pacing was spot on and for sure easier to do when you have a domestique.  Looking at Kristian's normalized to power to the top of Columbine versus the return, he only dropped 7%.  The way back is easier from a climbing stand point but you can't discount the increasing fatigue. I've only had one other rider at a 7% drop and that was Rose Grant winning in 2019.  Her race plan was also very specific to not go too hard at the beginning and race her pace.   Most athlete data I have seen show a 15-20% power drop in the 2nd half.  This is individual and could have many reasons for the power drop but I do feel experience goes a long way and experience of rides over 4000 kilojoules.
Going back Kristian's race,  it's hard post race to say we should have done this or we could have done that. He rode an exceptional race and executed the plan flawlessly.  Fact is he did go under 6hrs and had one of his most bitter sweet days on the bike.  Kristian is a champion.